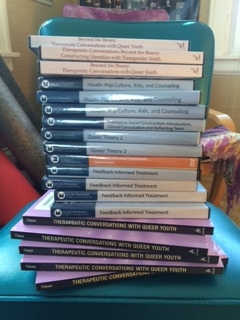 Below you will find a collection of resources – including videos, articles, book chapters, and FIT manuals – that relate to Julie's work. You can either get additional information by clicking on the items below or use the categories on the right to find a specific resource.
Note: Items labeled buy online will take you to an external website.
Feedback Informed Treatment: Evidence-Based Practice Meets Social Construction

This article explores the challenges presented by the mandate for evidence-based practice for family therapists who identify with the philosophical stance of social construction. Through a case vignette, the authors introduce the evidence-based practice of Feedback Informed Treatment as an elaboration of social construction, and as an example of bridging the gap between the discursive frames of empiricism and social construction.
Let's Start a Conversation
Believe me—I can talk a lot of dense theory and carry on about a lot of big effing ideas— but that's not what you're here for, and this isn't about me, it's about you and your life. It's my job to *get* you and respond to you on your terms, in your terms.
I begin every relationship with potential clients with a brief phone call (there's no fee or obligation).